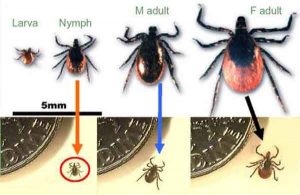 Every year in Southern Minnesota, pet owners find themselves worrying about ticks and mosquitoes, especially in Rice County. It will soon be spring and these pests will be out in full force.
Lyme disease, brought on by ticks, and heartworm, caused by mosquitoes, can be extremely dangerous to your furry friend. If you find a tick on Fluffy, you must carefully remove it. If you discover a bite, be on the lookout for early symptoms of heartworm, such as lethargy and coughing.
Kenyon Veterinary Clinic, in Kenyon Minnesota, recommends Heartworm & Lymes testing and prevention annually. Most dogs exposed to Heartworm or tick-borne diseases do not visibly show symptoms. Annual testing is the best way to diagnose these parasitic diseases.
Call Kenyon Vet Clinic today for a Heartworm/Lymes combo test.  Our number is 507-789-6118.
Kenyon Vet Clinic, quality, and compassionate veterinary care, fairly priced.
High Tech, High Touch – Kenyon Vet.